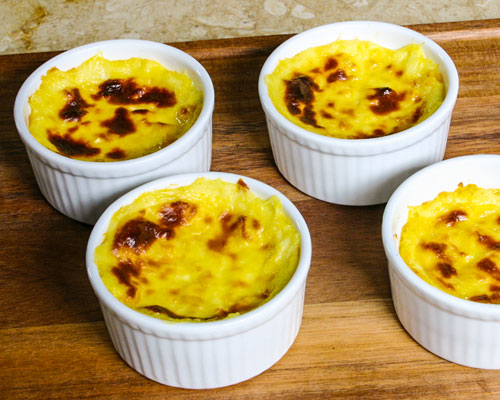 Serves 4

INGREDIENTS
30g sugar
2 pinches of salt
some butter
30g cornstarch
2 eggs
500ml milk
1/2 can Ayam Brand™ Cream Style Corn 425g

PREPARATION
Heat up your oven at 180ºC.
Coat the baking dishes with butter and place them onto a baking tray.
CUSTARD
Bring the milk to a boil in a saucepan over medium heat.
In the meantime, whip the eggs together with sugar and salt until the mix is fully dissolved. Add in the corn starch and mix until it gets creamy
Once the milk is simmering, pour in the eggs, the sugar and the starch mix. Whisk well until everything is dissolved.
Pour this mixture onto the cream style corn in a mixing bowl and mix well with a spoon.

BAKING
Scoop the mixture into the buttered dishes while still hot. Put the tray in oven for 20 to 25 minutes. Then, allow cooling down for 10 minutes and place them in the fridge for the night.

PRESENTATION
Serve chilled or warm according to your taste.