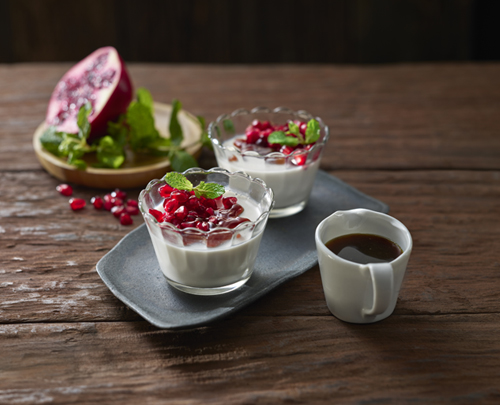 Ingredients:
330ml Ayam Brand™ Coconut Milk with enhanced coconut water
½ teaspoon Vanilla Essence
60g sugar
1 tablespoon gelatine powder
2 tablespoon cold water
1 wedge pomegranate
1 spring mint leaf (garnish)
50g gula melaka & 40ml water (for gula melaka sauce)
Method:
In a pot, combine Ayam Brand™ Coconut Milk, sugar and vanilla essence and stir occasionally till sugar is thoroughly combined.
In a bowl, add cold water and gelatine powder and stir for 10 seconds.
Add into the hot mixture and stir till its dissolve (optional - you may also strain the mixture).
Pour into the ramakin and leave it to set in the fridge for around 2 hours.
In a small pot, cut the gula melaka into small chunks and add water. Bring to boil and once the gula melaka is dissolve, the sauce is ready.