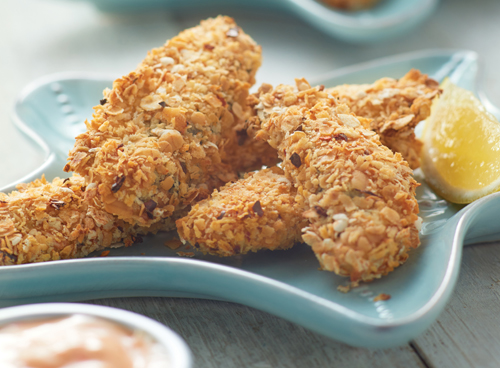 Makes 6 servings

INGREDIENTS
360 g sardines in chilli oil
3 tablespoons mayonnaise
1 teaspoon chilli flakes
pinch of salt
50 g panko breadcrumbs
50 g instant oats
50 g plain flour
1 egg, beaten
PREPARATION
Drain sardines and reserve the oil and chilli. Set aside.
Mix chilli flakes, salt, oats and breadcrumbs.
Preheat oven to 200°C and line a baking tray with baking paper.
Lightly coat sardines in flour and dip into beaten egg then coat it with the breadcrumb mix.
Arrange on the prepared tray and bake for 10 minutes or until crispy.
Chop the chilli from the tin, mix with the mayonnaise and 2 tablespoons of the reserved oil. Season with a little salt.
Serve the sardines with the mayonnaise and a lemon wedge.