Serves: 2
Prep Time: 5 Mins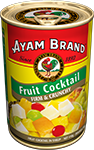 Ingredients:
1 can Ayam Brand™ Fruit Cocktail (410g)
1 tube honey Cincau, cut into large cubes
1 cup ice cubes
150ml cold water
Method:
Blend ice with the water and the syrup from the fruit cocktail. Divide fruit cocktail and cincau into 2 tall glasses and top with blended ice. Stir and serve.