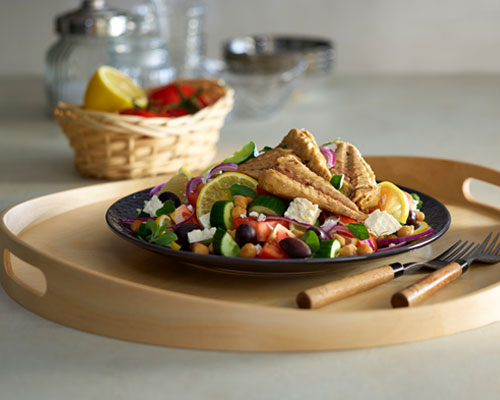 INGREDIENTS
1 can Ayam Brand™ Mackerel Fillet in Olive Oil, keep oil
1 garlic, minced
1 cucumber, cut into large chunks
1 can chickpeas, drained and rinsed
½ cup feta cheese, crumbled into small pieces
1 red onion, thinly sliced
½ cup olives
2 tsp oregano
½ tsp ground pepper
4 tomatoes, cut into large chunks
3 tbsp lemon juice
PREPARATION
In a small bowl, drain the olive oil from the can of Mackerel Fillet.
Add lemon juice, garlic, oregano and pepper in a large bowl until well combined.
Add the tomato chunks, cucumber adn drained cheakpeas.
Pour in the red onion, olives and the crumbled feta cheese. Mix everything.
Sprinkle some ground pepper. Mix again.
Serve them on a plate and add mackerel on top of salad, and enjoy!