Serves 4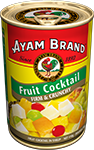 INGREDIENTs
FOR THE RAMEKINS (OR MOULDS)
25g butter, softened
1 tablespoon caster sugar

FOR THE BATTER
2 eggs
25g brown sugar
1 teaspoon vanilla extract or seeds from 1/2 vanilla pod 25g cornstarch
125ml whole milk
45ml UHT cream
icing sugar for sprinkling
1 can Ayam Brand™ Fruit Cocktail 410g

PREPARATION
Butter the ramekins, then coat the ramekins with sugar and shake off the excess. Preheat oven at 200ºC.

MIX
Drain the fruits and keep the syrup for another use.
In a round shape mixing bowl, beat the eggs with the sugar until dissolved and slightly fluffy.
Mix the vanilla seeds, the corn starch slowly. Add in the milk and the cream, whisking continuously. The mixture must be smooth.

BAKING
Share the mixture over the 4 ramekins and top with the fruits. Bake for about 20 minutes in the preheated oven.

PRESENTATION
Just before serving, sprinkle the top with icing sugar.