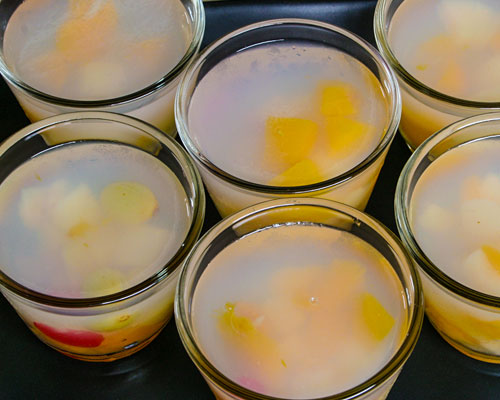 Serves 6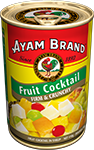 INGREDIENTS
10g agar agar powder
1.5 L water
200g sugar
2 screw pine (pandan) Leaves
1 can Ayam Brand™ Fruit Cocktail 410g
preparation
Drain the mixed fruits and pour the syrup into a large sauce pan
Pour the water onto it and add the sugar and the leaves knotted.
Bring to a simmer and stop the heat. Cover with a lid to leave the pandan to infuse.
Sprinkle the agar agar powder onto it whisking continuously and bring to a boil.
mixing
In 6 glass jars, spread the drained fruits. Pour the syrup onto it until fruits are covered. Put in the fridge.

PRESENTATION
When the glasses are really chilled, you can serve them.