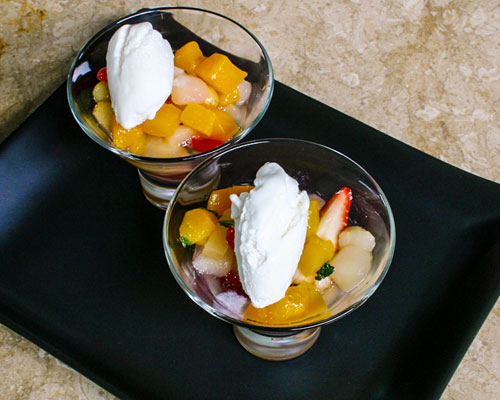 Serves 2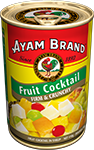 INGREDIENTS
1 stalk fresh mint
200g fresh strawberries
Vanilla ice cream
2 cans Ayam Brand™ Fruit Cocktail 410g
preparation
Drain the mixed fruits and pour the syrup of one can into a sauce pan. Wash the strawberries and cut them into quarters
Place all the fruits in a mixing bowl in the fridge.
Bring the syrup to a simmer and then take it out of the stove.
With scissors, cut the mint leaves onto the hot syrup.
Cover with a lid and leave the mint to infuse and the syrup to cool down.
Pour back the syrup onto the fruits and stir gently. Chill for 2 hours at least for the mint to infuse.

PRESENTATION
Serve in glasses to let the colours appear around. And top up with a scoop of vanilla ice cream.