Serves 2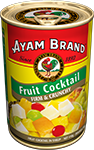 INGREDIENTS
1 vanilla pod
200g fresh strawberries
4 small plain yoghurts
1 can Ayam Brand™ Fruit Cocktail 410g
preparation
Drain the mixed fruits and pour the syrup of one can into a sauce pan.
Wash, clean the strawberries and cut them into quarters. Place all the fruits in a mixing bowl in the fridge.
Scrap the beans out of the vanilla pod and place them into the saucepan with the syrup directly. Place the pods as well into the saucepan to extract the maximum of the vanilla flavours
Bring the syrup to a simmer and take it out of the stove. Leave the syrup aside to allow cooling down.
Pour the syrup onto the fruits and stir gently. Chill for 2 hours at least for the syrup to infuse the fruits.
PRESENTATION
Place a large scoop of plain yoghurt in a large glass and scoop the mixed fruits and the syrup onto it.