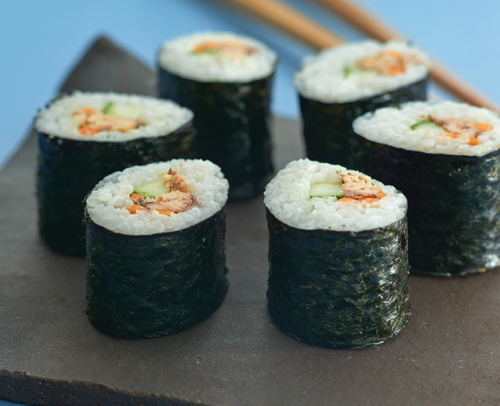 Makes 3 servings

INGREDIENTS
120 g tin sardines in extra virgin olive oil
200 g Japanese sushi rice / short grain rice
5 g sugar
25 ml vinegar
4 sheets Japanese dried seaweed wrap
¼ carrot, sliced
¼ cucumber, sliced
PREPARATION
Prepare rice according to packaging.
Cut the carrots and cucumber into 10cm strips.
Drain the sardines and cut them into lengthwise. Make 8 to 10 strips.
Mix sugar and vinegar then stir into the hot rice.
Using a sushi mat, spread thinly 4 tablespoons of rice on a seaweed wrap.
Place sardine, carrot and cucumber on the centre.
Form the sushi roll using the sushi mat. Seal the ends with some rice.
Cut into 3 cm rounds with a wet knife.
Repeat until all ingredients are used.