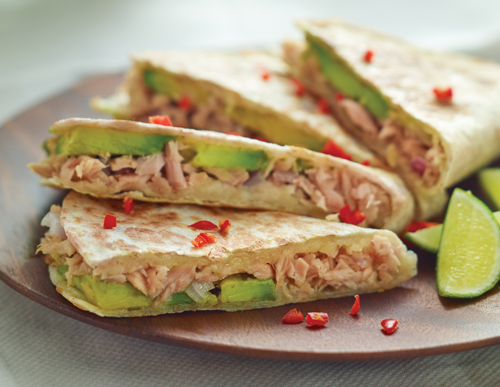 Makes 4 servings

INGREDIENTS
150 g tin Ayam Brand™ Tuna Flakes with extra virgin olive oil
2 tablespoons lime juice
1 red onion, diced
3 sheets wholemeal tortillas
200 g grated cheese (mixture of parmesan and mozzarella)
½ avocado, thin slices
2 tablespoons desiccated coconut
black pepper and salt to taste
1 red chilli, chopped (optional)
PREPARATION
Mix tuna, lime juice and onion. Add black pepper and salt to taste.
On medium-low heat, place a tortilla sheet on a non-stick frying pan.
Sprinkle some grated cheese and tuna mixture on half a side of the tortilla.
Place the avocado slices and more grated cheese on top of the tuna mixture, then fold gently.
Keep the quesadilla on the pan until slightly golden brown.
Flip on to the other side and do the same, or until cheese has melted.
Cut the quesadilla into triangles and enjoy with a light leafy salad.