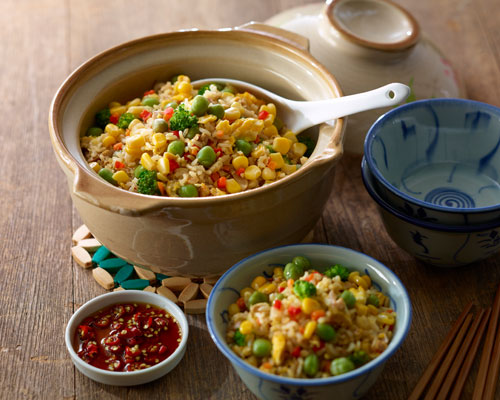 INGREDIENTS
3 cups cooked brown rice
4 large eggs
1 can Ayam Brand™ Processed Peas, drained
1 can Ayam Brand™ Sweet Cup Corn, drained
1 can Ayam Brand™ Mushrooms, drained and chopped
1-2 canola oil
1 cup carrots, shredded
1 cup onions, chopped
3 cloves of garlic, minced
1 tbsp fresh ginger, minced
2 cups brocolli, diced
¾ cup red bell pepper, diced
3-4 tbsp soy sauce, to taste
1 tbsp sesame oil
PREPARATION
In a large, deep skillet or wok, heat the canola oil over medium-high heat.
Add the shredded carrots, chopped onion, minced ginger and minced garlic. Let it cook for about 2 minutes.
Add in the bell pepper and broccoli. Cook until soft. Put aside.
Crack an egg in the skillet and scramble until cook through.
Pour back the veggies and the brown rice.
Add the mushrooms, corn and peas.
Add the soy sauce and sesame oil.
Toss for 2 minutes and serve warm.